Saint Valery
Abbot in Picardy
(† 619)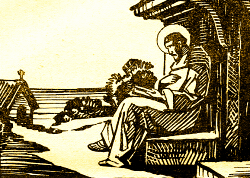 Saint Valery was born at Auvergne in the sixth century, where in his childhood he kept his father's sheep. He desired to study and begged a teacher in a nearby school to trace the letters and teach them to him, which the schoolmaster was happy to do. He soon knew how to read and write, and the first use he made of his knowledge was to transcribe the Psalter; he then learned it by heart. He began to frequent the church, and love of his religion soon burnt strongly in his heart.
He was still young when he took the monastic habit in the neighboring monastery of Saint Anthony. No persuasion could convince him to return home when his father came to attempt that move, and the Abbot, recognizing that his firmness was of divine origin, said to the monks, Let us not reject the gift of God. His father eventually was present when he received the tonsure, and shed tears of joy, having accepted his son's determination.
It was soon visible to all that God destined him for some high role in the Church. He left for a more distant monastery in Auxerre, and there he seemed to live a life more angelic than human. A rich lord of the region, after talking with him one day, disposed of his entire fortune without even returning home, to embrace religious poverty.
At that time Saint Columban was preaching in Gaul; Valery with some fellow monks desired to hear him and went to Luxeuil, where they were not disappointed. They asked to be received into that monastery in 594 and were accepted. A corner of the garden which Valery was assigned to cultivate was entirely spared when insects devastated the rest. The holy Abbot Columban allowed him to make his religious profession, and he remained at Luxeuil for some fifteen years. He was a witness when the local king drove away Saint Columban from his foundation, as a foreigner in the land. Soon afterward the monastery was invaded by strangers, but finally Saint Valery and the new Abbot, Saint Eustasius, succeeded in recovering it.
Some time afterwards Saint Valery with another monk left to carry the faith elsewhere, and decided with the permission of King Clotaire to remain as hermits in the region of Amiens. He raised to life a poor condemned man after he had been hanged, and the word of the sanctity of this monk soon spread. The wilderness of Leuconaus was transformed into a community, where from the numerous monastic cells and church the praises of the Lord rose up night and day. In 613, three years after his arrival, this locality became a monastery where the religious lived in common.
A man who had become unable to walk was cured by Saint Valery and replaced him later as Abbot of this monastery; he is today Saint Blitmond. Many more miracles illustrated his life of prayer and sacrifice. Saint Valery died in 619, and his tomb became celebrated by numerous miracles. A basilica was raised there in his honor, at the site where one of his disciples had felled a tree, object of pagan superstitions, at a word from the Saint.
Les Petits Bollandistes: Vies des Saints, by Msgr. Paul Guérin (Bloud et Barral: Paris, 1882), Vol. 4