Saint Radegundes
Queen of France
(† 587)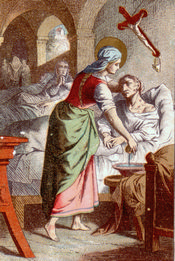 Born in 519, Saint Radegundes was the daughter of a king of Thuringia who was assassinated by his brother. A war ensued, and the little girl, at the age of twelve, was made prisoner and carried away captive by Clotaire, King of the Franks. He had her instructed in the Christian religion and baptized. The great mysteries of our Faith made such an impression on her young and tender soul that she gave herself to God with her whole heart, and desired to consecrate to Him her virginity. She was obliged, however, to yield to the king's wish that she become his wife.
As a great queen, she continued to remain an enemy to laxity and vanity, and divided her time chiefly between her oratory, the Church, and her devoted care of the poor. She also kept long fasts, and during Lent wore a hair cloth under her rich garments. Clotaire was at first pleased with her devotions, and allowed her full liberty in them. Afterward, however, he began frequently to reproach her for her pious exercises, saying with some of her enemies at his court, that he had married a nun rather than a queen, who had converted his court into a monastery. After six years, seeing that Clotaire was inflamed by bad passions, our Saint asked and obtained his leave to retire from court. She went to Noyon, where Saint Medard, its bishop, hesitated to receive from her a formal consecration and vows, despite the king's permission. She herself therefore cut off her hair, and after donning the rough habit of the nuns, placed her royal ornaments on the altar. Finally she was consecrated to the Lord as a deaconess by Saint Medard.
After a pilgrimage to the tomb of Saint Martin of Tours, she lived at Chinon for a time as a hermit. She continued to care for the sick and for lepers, sometimes performing miracles. Then, at Poitiers, with the king's consent, she built a large Monastery of the Holy Cross for women, and a church, with an adjoining monastery of monks for its maintenance. She named a holy virgin, Agnes, to be the first Abbess of her convent, and entering there herself, submitted to her in all things with perfect obedience, not reserving to herself the disposal of the slightest thing. She lived in extreme austerity and abstinence. She obtained from the emperor of Constantinople a major relic of the true Cross, and many other relics of Saints for her monastery. The relic of the Cross was the first to enter France, and it was then that the monastery received the name it has since borne. During the Saint's lifetime, her monastery followed the Rule of Saint Cesarius of Arles; some time after her death that of Saint Benedict was introduced and maintained.
King Clotaire, after repenting of his evil conduct, desired the Queen to return to his court, but through the intercession of Saint Germanus of Paris, she was allowed to remain in her retirement until her death. Clotaire died sometime before this holy spouse, who gave up her soul to God on the 13th of August, 587.
Little Pictorial Lives of the Saints, a compilation based on Butler's Lives of the Saints and other sources by John Gilmary Shea (Benziger Brothers: New York, 1894); Les Petits Bollandistes: Vies des Saints, by Msgr. Paul Guérin (Bloud et Barral: Paris, 1882), Vol. 9