Saint Maximin or Mesmin of Verdun
Abbot of Micy
(† 520)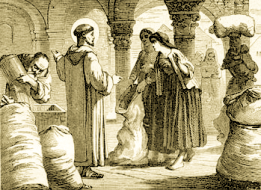 Saint Maximin was a native of Verdun. A priest named Euspicius, uncle of Maximin, brought about a reconciliation between the French monarch Clovis and his subjects of that city, after the latter had engaged in a revolt. Clovis, appreciating the virtues of the good priest, persuaded Euspicius to take up his residence at the court in Orleans; and the servant of God took Saint Maximin, his nephew, with him. Maximin was ordained a deacon by the bishop of Orleans, and then a priest.
A site about two leagues from the city was given by Clovis to Euspicius for a monastery. He with Maximin and several disciples built there the large monastery, of which he then took charge. His young assistant knew well how to attract many young men of admirable piety and fervor to the religious state.
At the death of the Abbot two years later, the young priest was appointed to replace him. Solitaries left their cells to come and place themselves under his direction, and soon the gift of miracles was bestowed upon the abbot. He multiplied wine and grain during a famine, to assist the afflicted people; he delivered a possessed man and cured two blind men, though he knew one of them had become blind only after he maliciously cut down a tree belonging to the monastery. Through his prayers he brought about so many other prodigies that he was called the thaumaturge of his century.
His soul was soon ripe for the beatitude he had earned, and after having governed his monastery for ten years, he died as he had lived, in the odor of sanctity, and in the arms of his spiritual sons, on the 15th of December in about the year 520.
Reflection: Few are called to serve God by great actions, but all are bound to strive for perfection in the ordinary actions of their daily lives. This is the Will of God — that you be saints. (Saint Paul, I Thessalonians 4:3)
Little Pictorial Lives of the Saints, a compilation based on Butler's Lives of the Saints and other sources, by John Gilmary Shea (Benziger Brothers: New York, 1894).