Saint Ischyrion
Martyr in Alexandria
(† 250)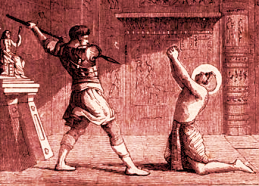 Ischyrion was a subordinate officer serving under a magistrate in Egypt. His master commanded him to offer sacrifice to the idols, and because he refused to commit that sacrilege, reproached him in the most abusive and threatening language. Giving way to passion and superstition, the commanding officer at length worked himself up to such a degree of frenzy as to run a stake into the entrails of the meek servant of Christ, who by his patient constancy attained to the glory of martyrdom.
Reflection: It is not a man's terrestrial condition, but his virtue that can make him truly great and truly happy. However lowly a person's station or circumstances may be, the road to both greatness and happiness is open to him; and there is not a servant or slave whom God will not sustain, if he is fired with the laudable ambition of arriving at the summit of Christian perfection. (Rev. Alban Butler)
Little Pictorial Lives of the Saints, a compilation based on Butler's Lives of the Saints and other sources, by John Gilmary Shea (Benziger Brothers: New York, 1894).