Saint Hegesippus
a Primitive Father of the Church
(† 180)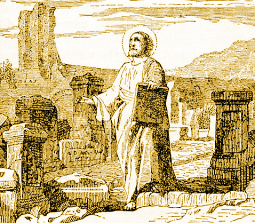 Saint Hegesippus was by nation a Jew who joined the Church of Jerusalem, when the disasters attaining his unhappy land opened his eyes to see their cause. His writings were known to Saint Jerome and Eusebius and were praised by them and by all of antiquity. Saint Hegesippus journeyed to Rome, stopping to visit all important churches along his way, afterwards remaining there for nearly twenty years, from the pontificate of Pope Saint Anicetus to that of Saint Eleutherius. During the time of the latter he returned to the Orient, where he died at an advanced age, probably in Jerusalem in the year 180, according to the chronicle of Alexandria.
Saint Hegisippus wrote in the year 133 a history of the Church entitled Memoirs, which was composed of five books and covered the time from the Passion of Christ until that year, that is, one hundred years; the loss of this work, of which only a few fragments remain, is extremely regretted. In it he gave illustrious proofs of his faith, and placed in evidence the apostolic tradition, proving that although certain men had disturbed the Church by broaching heresies, yet even to his day no episcopal see or individual church had fallen into error. This testimony he gave after having personally visited all the principal churches, both of the East and the West, with the intention of gathering all authentic traditions concerning the life of Our Lord and of the Apostles.
Les Petits Bollandistes: Vies des Saints, by Msgr. Paul Guérin (Bloud et Barral: Paris, 1882), Vol. 4; Little Pictorial Lives of the Saints, a compilation based on Butler's Lives of the Saints and other sources by John Gilmary Shea (Benziger Brothers: New York, 1894).