Saint Fiaker
Prince of Scotland and Anchorite
(† 670)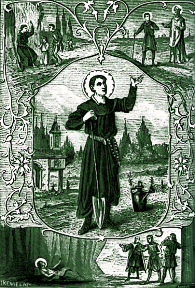 Saint Fiaker was the eldest son of Eugene IV, king of Scotland, born in the early sixth century heir to the throne of Scotland. He was educated under the care of a bishop of eminent sanctity, Conan, Bishop of Soder or the Western Islands.
Considering all worldly advantages as dross, the young prince, accompanied by his sister, left country and friends when in the flower of his age, and sailed to France. The prince intended to seek a solitude to which they might retire and devote themselves to God, unknown to the rest of the world. Divine Providence conducted them to Saint Faro, Bishop of Meaux, eminent for his sanctity. When Saint Fiaker addressed himself to him, the prelate, charmed with the marks of extraordinary virtue and abilities which he discerned in this stranger, gave him a solitary dwelling in a forest called Breuil, two leagues from Meaux. He placed the princess Sira in the Faremoutier monastery for women, of which his own sister was Abbess, and in that convent the young Christian found the enduring peace of Christ.
The holy anchorite Fiaker cleared the ground of trees and briers, made himself a cell and cultivated a small garden. He built an oratory in honor of the Blessed Virgin, where he spent the greater part of the days and nights in devout prayer, laboring also with his own hands for his subsistence. The life he led was very austere, and only necessity or charity ever interrupted his exercises of prayer and heavenly contemplation.
Many resorted to him for advice, and the poor sought relief at his door. Saint Chillen, or Kilian, an Irishman of high birth, on his return from Rome visited Saint Fiaker, who was his kinsman. After spending some time under his discipline, this other budding Saint was directed by Fiaker's advice and with the authority of the bishops, to preach in the nearby dioceses as well as in that of Saint Faro. This commission he executed with admirable sanctity and fruit, and his relics were later placed in the same coffer as those of his eminent relative, the saintly hermit. Saint Fiaker died in the year 670, on the 30th of August; he is the patron of gardeners.
Reflection: You who love indolence, ponder well these words of Saint Paul: If any man will not work, neither let him eat. (II Thessalonians 3:10) The disciples of the divine Carpenter of Nazareth have always appreciated the value of manual work.
Little Pictorial Lives of the Saints, a compilation based on Butler's Lives of the Saints and other sources by John Gilmary Shea (Benziger Brothers: New York, 1894).