Saint Edmund
Archbishop of Canterbury
(† 1240)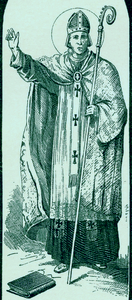 Saint Edmund, Edmundus, or Edme, was born at Abingdon in England towards the end of the twelfth century, the son of very virtuous Christians. His father withdrew from the world before many years passed, and entered a monastery, where he later died; and his pious spouse raised her children in the love and fear of God, accustoming them to an austere life, and by means of little presents, encouraging them to practice mortification and penance.
Edmund, the oldest, with his brother Robert, left his home at Abingdon as a boy of twelve to study in Paris. There he protected himself against many grievous temptations by a vow of chastity, and by consecrating himself to the Blessed Virgin Mary for life. While he was still a schoolboy there, he one day saw the Child Jesus, who told him He was always at his side in school, and accompanied him everywhere he went. He said he should inscribe His Name deeply in his heart, and at night print it on his forehead, and it would preserve him and all who would do likewise, from a sudden death.
His mother fell seriously ill while he was still studying in Paris; he returned home for her final benediction, and she recommended that he provide for his brother and his sisters. When the latter were all received by the Superior of a nearby convent, Edmund was able to return to Paris to complete his studies. He began to profess the liberal arts there and acquired an excellent reputation, striving also to teach virtue to his students and to aid them in all their difficulties. After six years, he was advised by his mother in a dream to abandon the teaching of secular disciplines, and devote himself to learning to know God better. He then became a Doctor of sacred learning, and many who heard him teach left their former occupations to embrace religious life. When ordained a priest, he was the treasurer of the Church of the diocese of Salisbury. There he manifested such charity to the poor that the dean said he was rather the treasure than the treasurer of their church.
The Pope, having heard of his sanctity and his zeal, charged him to preach the Crusade against the Saracens. He was raised in 1234 to the archiepiscopal see of Canterbury. There he fearlessly defended the rights of Church and State against the avarice and greed of Henry III. The complacent ecclesiastics and lords persecuted him in various ways, but could not alter his patience. Finding himself unable, however, to force the monarch to relinquish the benefices which he kept vacant on behalf of the royal coffers, Edmund retired into exile at the Cistercian monastery of Pontigny, rather than appear as an accomplice to so flagrant a wrong. After two years spent in solitude and prayer, he went to his reward. The miracles wrought at his tomb at Pontigny were so numerous that he was canonized in 1247, only a few years after his death. His body was found incorrupt in that year, when it was translated in the presence of Saint Louis IX and his court to Pontigny, from its former resting place in the church of Soisy.
Les Petits Bollandistes: Vies des Saints, by Msgr. Paul Guérin (Bloud et Barral: Paris, 1882), Vol. 13