Saint Bibiana
Virgin and Martyr
(† 363)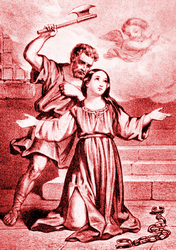 Saint Bibiana was a native of Rome, born in the fourth century, the daughter and sister of martyrs. Flavian, her Christian father, was apprehended during the reign of Julian the Apostate, branded on the face as a slave, and banished to Toscany, where he died of his wounds a few days later. Her mother, Dafrosa, was beheaded two weeks later. Their two daughters, Bibiana and Demetria, after the death of their parents were stripped of all they had in the world, and then imprisoned with orders to give them no food. The Roman praetorian offered them rewards if they would abandon their faith, and threatened a cruel death if they would not conform, but they replied courageously that the goods and advantages of this world had no attraction for them, and that they would endure a thousand deaths rather than betray their faith and their Saviour. Demetria, after having pronounced this ardent defense, fell to the ground and expired at her sister's side; she is inscribed in the Roman martyrology on June 21st.
The officer gave orders that Bibiana be placed in the custody of a woman named Rufina, who was commanded to corrupt her or mistreat her. But the martyr made prayer her shield and remained invincible. Enraged at the courage and perseverance of the young virgin, the persecutor ordered her to be tied to a pillar and whipped until she expired, with scourges tipped with leaden plummets. The Saint underwent this punishment cheerfully, and died at the hands of the executioners. She was buried by a holy priest at a site where afterwards a chapel and then a church were built above her tomb. In 1628 the church was splendidly rebuilt by Pope Urban VIII, and in it he placed the relics of the two sisters and of Saint Dafrosa, their mother.
Reflection: Pray for fidelity and patience like Bibiana's under all trials, that neither convenience nor any worldly advantage may ever prevail upon you to transgress the laws of God.
Little Pictorial Lives of the Saints, a compilation based on Butler's Lives of the Saints and other sources, by John Gilmary Shea (Benziger Brothers: New York, 1894); Les Petits Bollandistes: Vies des Saints, by Msgr. Paul Guérin (Bloud et Barral: Paris, 1882), Vol. 14