Blessed Mary of the Incarnation
Carmelite
(1565-1618)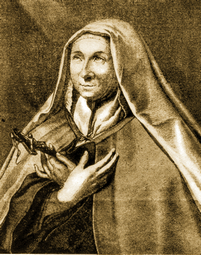 Blessed Mary of the Incarnation was born in Paris in February 1565; both of her parents were members of the most ancient families of that great city. Before she was born, several other children had seen the light of day, but all died in their infancy. During the time her mother awaited this child, she vowed her to the Blessed Virgin and Saint Claude, promising to clothe her in white until the age of seven and to offer her in a church of the Blessed Virgin. She was born a very healthy babe, and baptized with the name of Barbara, on the day after the Purification of Our Lady. She was of a gentle temperament and an angelic modesty, and at the age of eleven was placed as a intern student in a religious house of the Order of Saint Clare near Paris, where she had a maternal aunt. She continually advanced in virtue and felt great distaste for all the things of this world, along with an insatiable ardor for those of heaven.
When she returned home at the age of fourteen, she wished to enter a religious Order for the care of the sick in Paris, but her parents opposed this plan. Her mother informed her she would never permit her to become a nun. The young girl believed God was speaking to her through her mother and obeyed.
Several offers of marriage were presented, and before her eighteenth birthday she married Pierre Acarie de Villemor, a man of great nobility, piety and charity. Six children were born to them, and their pious mother raised them with great care. She taught them never to complain of circumstances or persons, inspired in them horror for lying, and strove to make them recognize in their hearts any sentiments of vainglory. Her three daughters became Carmelites, and her three sons entered, in turn, the magistracy, the priesthood and the military career.
When her husband encountered difficulties of a political nature, his household was seized, and the very furniture where the family was seated at table was removed from beneath them. She accepted these circumstances without growing troubled, and in fact defended her husband in court, drafting memoirs, writing letters and furnishing proofs of his innocence. He was acquitted and enabled to return to the city after three years.
Blessed Mary was so sage in her almsgiving that during a famine the wealthy persons who desired to help the poor caused their alms to pass through her hands, and this holy woman was universally honored. She entered into the spirit of the current reforms of the religious Orders and the foundation of new Congregations which were reviving the spirit of piety in France. Through her efforts she merited the title of Foundress of the Carmelites in France. Six nuns from Spain brought the spirit of Saint Teresa with them, and soon the principal cities of France had a house of this Order. Blessed Mary of the Incarnation also contributed to the works of the first Ursulines in Paris for the education of youth, and to the establishment of the Oratorians of Italy in France.
Her worthy spouse died in 1613; she then requested admission to the Carmelite Order herself. She arrived saying, I am a poor mendicant who begs of you the divine mercy, and that I may cast myself into the arms of religion. At Amiens where she dwelt, her own daughter was Superior; and a perpetual contest in humility began, observed by all. She died in 1618, on Wednesday of Easter week, at the age of fifty-two years, loved and praised by all who had known her. She was beatified by Pope Pius VI; her mortal remains are in the chapel of the Carmelites of Pontoise.
Les Petits Bollandistes: Vies des Saints, by Msgr. Paul Guérin (Bloud et Barral: Paris, 1882), Vol. 4